Project Goal: Create an abbreviated, digital version of Russell Johnson Memorial Service.
The Celebration of Life and Work of Russell Johnson, as the event was titled, took place in the Allen Room of Jazz at Lincoln Center, one of the performing arts venues designed by Russ. Several hundred guests filled the room, among them Russ' friends, family and Artec's present and former colleagues. The event had a simple flow. It consisted of introductory part, speakers presentations and a closing which included a few concluding words, a video and a reception at the very end.

Design Approach: Mimic the original event flow.
Although main purpose of this website was to let people unable to attend the actual event partially experience the atmosphere of the memorial, site secondary mission was to allow those who attended revisit their experience once more. There was no need to restrict the flow to a specific order and although the website sitemap suggest the order of proceeding, a visitor may pick and choose what or whom to view or listen first, next and last.

Wireframe Samples: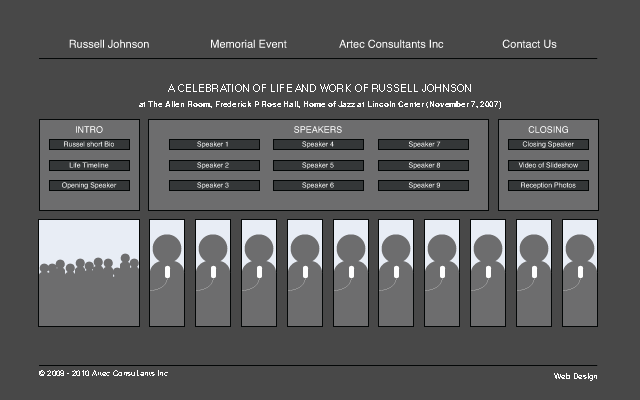 Experience Russell Johnson Memorial Event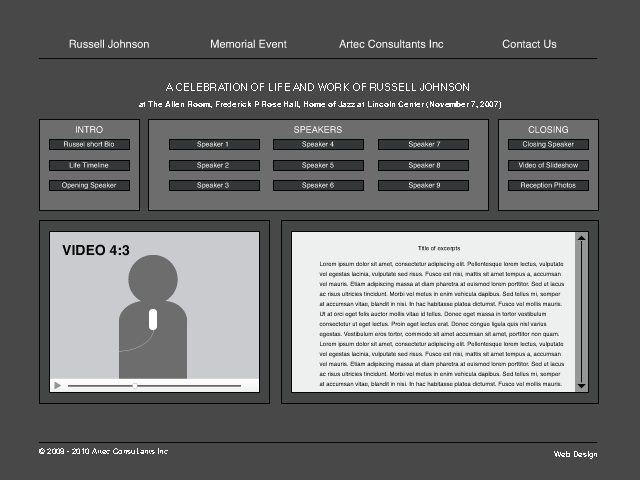 Experience Russell Johnson Memorial Event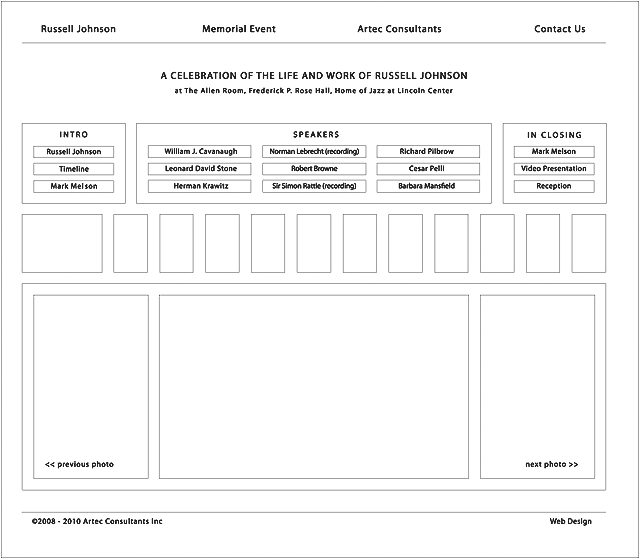 Experience Russell Johnson Memorial Event


Results: People unable to attend the services enjoyed the online snap shot of the event after being invited by a personal email or phone call from one of the Artec Partners. Those who were in attendance enjoyed a reminder of the event.
Additional Results: Although the website was designed for limited use, because of its Search Engine friendly architecture and development RussellJohnsonLegacy.com continues to be visited on daily basis, shows up on first page of Google's search results for key words "Russell Johnson" despite being outnumbered by web pages dedicated to an American actor Russell Johnson.